Huawei heeft op het Mobile World Congress haar eerste smartwatch officieel uitgebracht. De op Android Wear gebaseerde smartwatch ziet er erg chic uit.
Huawei Watch
Eerder deze week kwamen er al details naar buiten dat Huawei een eigen smartwatch zou lanceren. De Huawei Watch is een ronde smartwatch dat draait op Android Wear. Deze nieuwe smartwatch heeft een diameter van 42 millimeter en is daarmee een van de compactere smartwatches tot nu toe uitgebracht. Het AMOLED 1,4 inch display heeft een resolutie van 400 bij 400 pixels. Handig om te weten is dat de smartwatch krasbestendig is door het saffier glas wat over het AMOLED scherm ligt.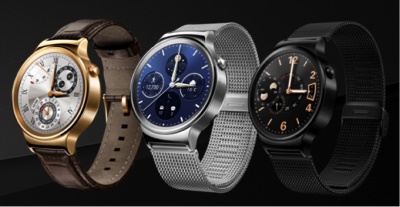 De Huawei Watch wordt aangestuurd door een Qualcomm 1.2 GHz processor, 512MB werkgeheugen en Bluetooth 4.1. Ook beschikt de smartwatch over 4GB aan opslagruimte, waarop je tal van Android Wear applicaties kwijt kunt. Verder is de Huawei Watch uitgerust met een hartslag monitor en een bewegingssensor.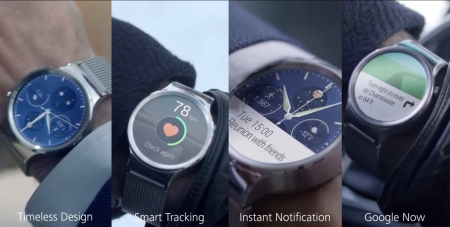 De vermoedelijke prijs en release datum is nog onbekend, of de Huawei Watch überhaupt zijn weg naar Nederland weet te vinden is nog zeer de vraag. In onderstaand persbericht vinden we Nederland niet terug.
Persbericht
Barcelona, Spain, March 1, 2015: Huawei continues to break new ground in the wearables space by unveiling today the Huawei Watch, powered by Android Wear™ at Mobile World Congress (MWC) 2015. The fully circular watch features a 1.4-inch touch-sensitive AMOLED display, scratch-proof sapphire crystal lens, cold-forged stainless steel frame, and comes with a built-in heart rate monitor and 6-Axis motion sensors. The Huawei Watch is the first smartwatch in the Huawei wearable family.

"We have responded to consumers' requests from around the world asking for a smartwatch featuring a timeless design that is truly smart from within. Through Huawei's continued commitment to 'Make It Possible,' the Huawei Watch delivers on that promise and gives the consumer a premium smartwatch that is technologically innovative," said Richard Yu, CEO, Huawei Consumer Business Group. "As the first smartwatch in our expanding line of premium wearable products, the Huawei Watch was designed and created to enhance and be part of the consumer's everyday lives."

Timeless Design
Designed by a team of experienced watch designers that have a rich history in creating fashionable and timeless watches, the attention-to-detail becomes apparent upon first glance as the device boasts a sparkling AMOLED 1.4-inch display at 400 x 400 pixels resolution in 286 ppi at a 10,000:1 high contrast ratio, making it the most vibrant Android Wear smartwatch in the world.

Made of more than 130 components, Huawei Watch has a crown, frame and hinge built from high-quality and scratch resistant cold-forged stainless steel making it 40 percent harder. With an intuitive 2 o'clock press button, the watch offers the highest levels of control and comfort to the user. The Huawei Watch comes in three stylish colors: gold, silver and black.

Designed with personalization in mind, more than 40 unique watch faces will be available to choose from, including a full range of watch straps made from different materials, and styles. The Huawei Watch will come with a magnetic charging station for the users benefit.

Smart Within
Powered by Android Wear, receiving SMS, email, calendar, app, and phone call notifications has never been easier or more convenient. Compatible with smartphones running Android 4.3 or higher, Huawei Watch boasts a powerful Qualcomm 1.2GHz processor for optimal performance, includes 4GB of storage, 512MB of RAM and Bluetooth 4.1. For the sports enthusiast, or just those interested in tracking fitness levels, Huawei Watch features a heart rate monitor sensor, 6-Axis motion sensor, and barometer sensor that automatically detects and tracks in real-time if a user is walking, running, biking, hiking or sleeping. Specifically, users can monitor everything from the number of calories burned, to heart rate, climbing height, steps taken, and distance travelled.

Huawei Health Ecosystem
To encourage consumers to live happier and healthier lives, Huawei is dedicated to building a wearable's health and lifestyle ecosystem that will help users set goals and track their progress. With exciting partners including Jawbone, the Huawei Health Ecosystem seeks other innovative third-party health and fitness apps that will encourage users to set themselves free.

Availability and Accessories
Huawei Watch will be available in more than 20 countries including United States, United Kingdom, Argentina, Australia, Brazil, Canada, Denmark, Finland, France, Germany, Hong Kong, Italy, Japan, Norway, Philippines, Russia, Singapore, South Korea, Spain, Sweden, Switzerland, United Arab Emirates. Exact availability and pricing will be announced at a future date in each of the local markets.